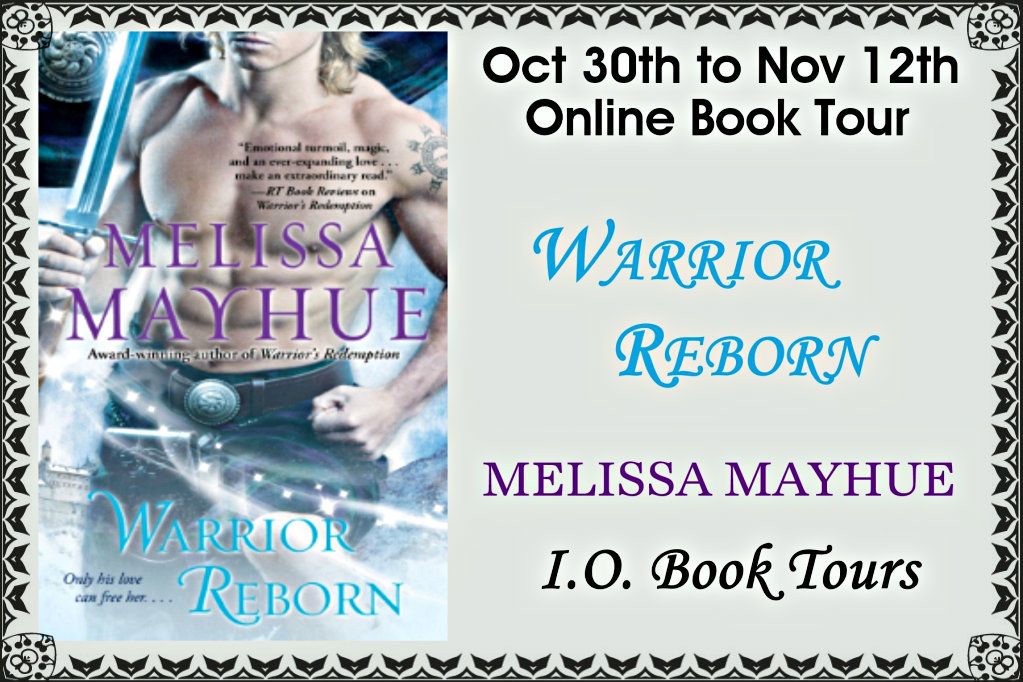 I am very pleased to be taking part in the release day tour of Warrior Reborne by Melissa Mayhue.
Former special ops agent CHASE NOBLE has been searching his whole life for the place where he belongs.

As a descendant of Fae, he senses fate has more in store for him, and he will not rest until he discovers what his true purpose is. When he travels back in time to medieval Scotland, he discovers his mission is to save a beautiful woman—the same woman he is destined to be with.
CHRISTIANA MACDOWYLT
possesses the gift of foresight. Prisoner of her evil half-brother, Christiana's visions show her that only one warrior can rescue her—a man she is mysteriously drawn to.

The only problem is,

he's in the future.

Now she must rely on the magic of a Faerie to transport him to the past. And when Christiana finally meets Chase, the sparks between them set off a smoldering desire.

But will the magic
that brought them together also tear them apart?
You Tube Video Warrior Reborn
http://youtu.be/5Szhv21GEJA
**********************************************************************************
A very interesting read and one I thoroughly enjoyed. This story kept my interest all the way through. The charters were very interesting but I felt I was missing something about how they relate to each other. This is likely because I haven't read the books before this one in the series. I very much want to read them all now and I am looking forward to the next one.
Melissa Mayhue
is the award-winning author of Thirty Nights with a Highland Husband, Highland Guardian, Soul of a Highlander, A Highlander of Her Own, A Highlander's Destiny, A Highlander's Homecoming, Healing the Highlander , A Highlander's Curse and Warrior's Redemption. She and her family live in Colorado in the shadow of the beautiful Rocky Mountains with two insanely spoiled dogs, one domineering cat, a turtle with an attitude, and way too many fish in their aquarium. Visit her website at MelissaMayhue.com.
You Tube Video Interview of Melissa Mayhue
http://youtu.be/2c_pn5-zCnk
ONLINE LINKS:
Amazon paper book Amazon Kindle copy